Report by Liz Kirtley
Nice event that allowed canicrossers alongside 'normal' runners.  Bella and I did the 5k and had a great time.  Dark and muddy with patchy fog and some nice 'technical' hills and turns around the middle section.
The course was well marked and well marshalled.  Bella got a bit freaked by some of the marshal points as they were so well lit it was a bit like approaching some sort of UFO!  All in all though, she was a complete star – especially coping with the very congested start.  Bella and I started right at the back, which turned out to be less than ideal when everyone in front of us stopped to try and avoid the first large wet patch!
Once we got away from the crowds we had plenty of space to enjoy the run (and the muddy puddles) and we both loved it.   Definitely one to do again next year.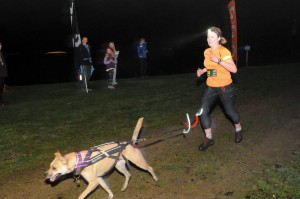 ---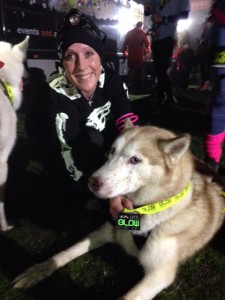 Report by Lizzie Wales
Aussie and I challenged ourselves to our very first 10km race and Night Run, and braved a very foggy and 3c night. This is the second year for Canicrossers and it had a great turn out from various clubs and Individuals alike!
The route was undulating, with a few technical turns and hills and pretty muddy but it was marshalled and organised very well, the atmosphere was fun and friendly and definitely one to be done next year, and a great way to meet fellow Canicrossers.
Aussie performed brilliantly, night running is definitely his thing, and we got our first ever race placing with a 3rd in the Veteran Class, nice start to the season!