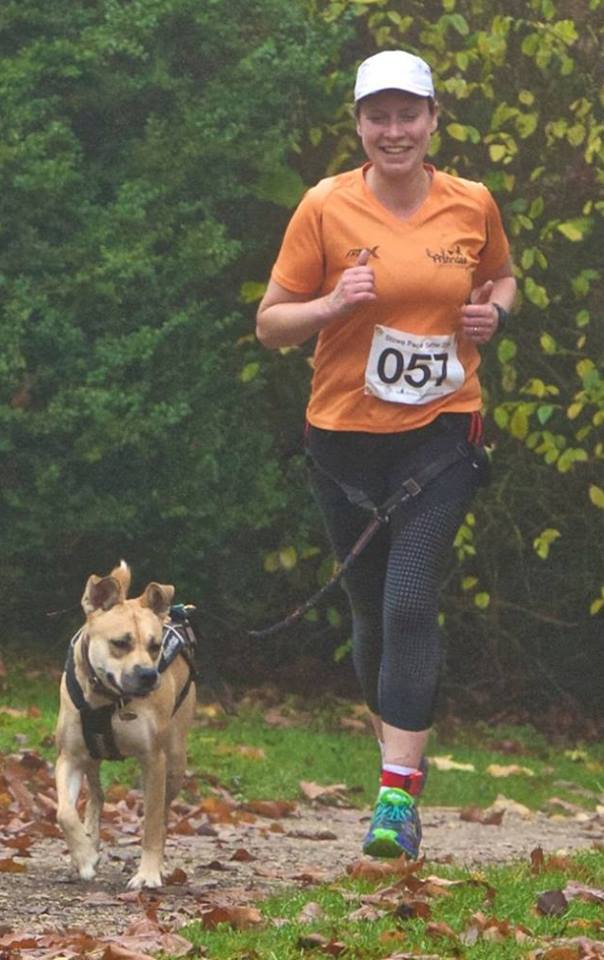 I have been running for several years now on and off, but after running the London Marathon in 2013 I lost my running mojo.  I started to stick to off road trail running but my mum worried about me being in the middle of nowhere on my own.  'You need a dog' she said.  That got me thinking and shortly after that I adopted my first rescue dog, Bella, from Wood Green Animal Shelter.  Her assessment described her as a mongrel and said she needed an 'active family'.  She was 10 months when I adopted her and when she was twelve months old I started some short runs with her locally.  She LOVES to run.  I had heard about canicrossing but had no idea how to get into it properly.  I adopted my second dog, Arri (then aged 3), at about this time.  He is from Hounds First Sighthound Rescue and is a greyhound x whippet (a longdog, not a lurcher).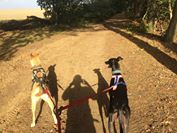 I was lucky enough to find out about Ashridge Canicrossers from a lady on a women's running facebook page.  Bella took to it immediately but Arri took a little longer to get the hang of it.  Now they both really enjoy it and get very excited when I get their harnesses out.
Bella is still very much in charge and they run brilliantly as a team.
Sometimes I run with Bella alone, sometimes I run with both dogs. I enjoy combining my love of dogs with my renewed love of running.  It is great to get together with people who love both too!  I know I will never be fast but for me it is about enjoying it with friends (two and four legged).  It is a fabulous way of building and increasing a really good friendship and bond with your dog(s) and I recommend it to all.