History of the Club
In the winter of 2010/11, George and Sarah were running at Ashridge most weekends, and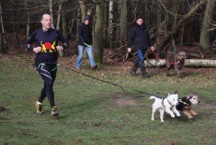 thought they would invite other people from the nearby villages to see if anyone wanted to join them. There were a couple of local people who showed an interest and the group was given a name- "Ashridge Canicrossers". We ran through the winter until the warmer weather and the agility season picked up, and used email and the phone to arrange meets.
In the autumn of 2011, a Facebook group was started up as a more simple way to create meets and know who would be attending. Over the winter of 2011/2012 the group became more active and started to have more regular runners attending the Saturday runs. As the weather got warmer, it was decided that the group would swap the runs to Wednesday evenings, as it would be cooler. This way we could continue to run through the summer when the temperature was more suitable for the dogs. With Saturday runs starting once again in the winter of 2012, the Wednesday run became a permanent fixture as there was still demand.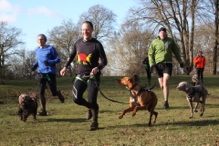 There was now a very active core group of canicrossers and, although we called ourselves the Ashridge Canicrossers, it was just a name. We needed to consider the formation of a club due to growing numbers and the need to ensure the group's identity, along with making sure we had appropriate insurance cover. The suggestion to formalise the club and become a 'Not for Profit Club' was met with a very positive response. Several people put in a lot of effort and the club was scheduled to be officially created mid-January 2013. Due to heavy snow this was postponed and the club came into being on the 2nd of February 2013 at an AGM held in the café on the Ashridge estate.