Welcome to
Ashridge Canicrossers
---
We meet Saturday mornings and Wednesdays evenings (weather permitting).
---
Want to run with your dog? Then come along and join in the fun.
We are a friendly group of canicrossers of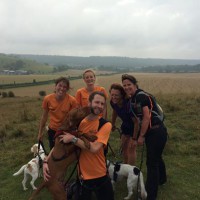 various abilities who enjoy running in the beautiful surrounds of the Ashridge Estate. Don't worry about your running ability, if you want to get started just get in touch by sending us an email.
For us it's about getting out and enjoying the company of likeminded people and their dogs. You'll be surprised by how much your dog will motivate you and at the bond you will develop.
On Wednesday nights we meet in the evening and these runs tend to be around 8K in the dark.
During the winter mont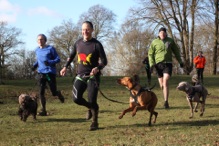 hs (and other months if cool enough for the dogs) we meet on a Saturday Morning (time dependent on weather). We will run on average 5-8K. We vary the start points to give us a chance to enjoy different routes through the estate. If we start at the Bridgewater Monument we tend to stay for coffee and cakes at the visitor centre after the run.
Some of our club members also compete in various canicross races. The distances can range from 5k to a half marathon and beyond. It's always fun to attend these competitions, whether competing yourself or supporting the runners you've trained alongside.